Inflation. not the boring kind where currency loses value over time. No, the other boring kind where you lose hours of your life vigorously pumping with your legs, arms and lungs into tires, balloons, pool toys and so on. If only there was an easier way… And of course there is!
I don't know how many times a year I have to inflate a tire. On my MATE X eBike, I alternate between summer street tires, winter street tires, and occasionally I put on knobby off-road tires for planned trips through forests and nature trails. When I include punctures, the family cargo bike, my girlfriend's and daughter's bikes, basketballs, kiddie pool, beach toys, It occurs to me that I am pretty sick of it.
While shopping for new off-road tires, I came across an ad for an USB-rechargable electric inflator/pump from a company called Vooni. It seemed like a really practical solution, but a bit expensive. Then I remembered that I had seen the exact same pump at eBikeparts with a different brand name (Cycplus) and it was considerably cheaper. I had plans for the summer that involved at least 2 tire changes and a few trips to the beach, so I decided to give it a try.
Watch the video review here: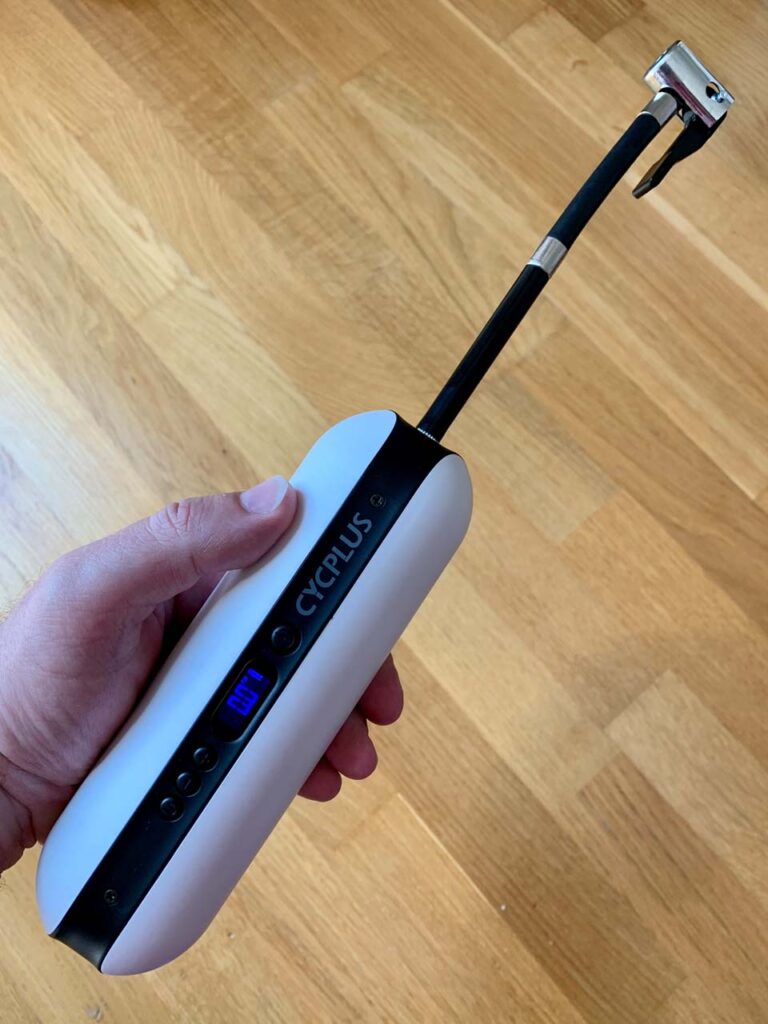 Cycplus A2 Specs & Features:
Weight: 336g
Dimensions: 180mm x 55mm x 55mm
Max pressure: 150 PSI (3.10 Bar)
Power: 500mAh (12.8V)
Work current 1-5A
Micro USB rechargeable (2-3 hours) with USB-A to Micro- USB cable included
LED Flashlight
LED Display
Power bank (USB A Output: 5V @ 1A)
Switch between PSI, Bar, KPA
Schrader valve and adapters
Mount for bike frame (with mounting hardware and tools)
Impressions
The unit is surprisingly small and compact. I imagined it to be a lot bigger than it turned out to be when I unpacked it. It's about the same size as a drinking bottle, and incidentally you can mount it to your bike's frame just like a drinking bottle holder, using the included mount. Well… if your bike's frame has those standard holes for that sort of thing, but my MATE X eBike does not. I usually have a small backpack with tools and stuff, and this will fit nicely in there without taking up much space.
I was impressed with how easy it was to use, just attach it to the valve and turn it on to see the current pressure in the tire. The plus/minus buttons allow you to set a target pressure, and if you want a pressure that's lower it'll actually let some air out until the desired value is reached.
The only thing I had to read the manual for, was how to activate the built-in LED flashligt and power bank mode. The power bank is handy, as I find myself needing to recharge a USB gadget far more often than I need to inflate something. A nice detail is how the flashlight is on the same end as the valve, so you can see what you're doing if you need to pump a tire on the side of a dark road.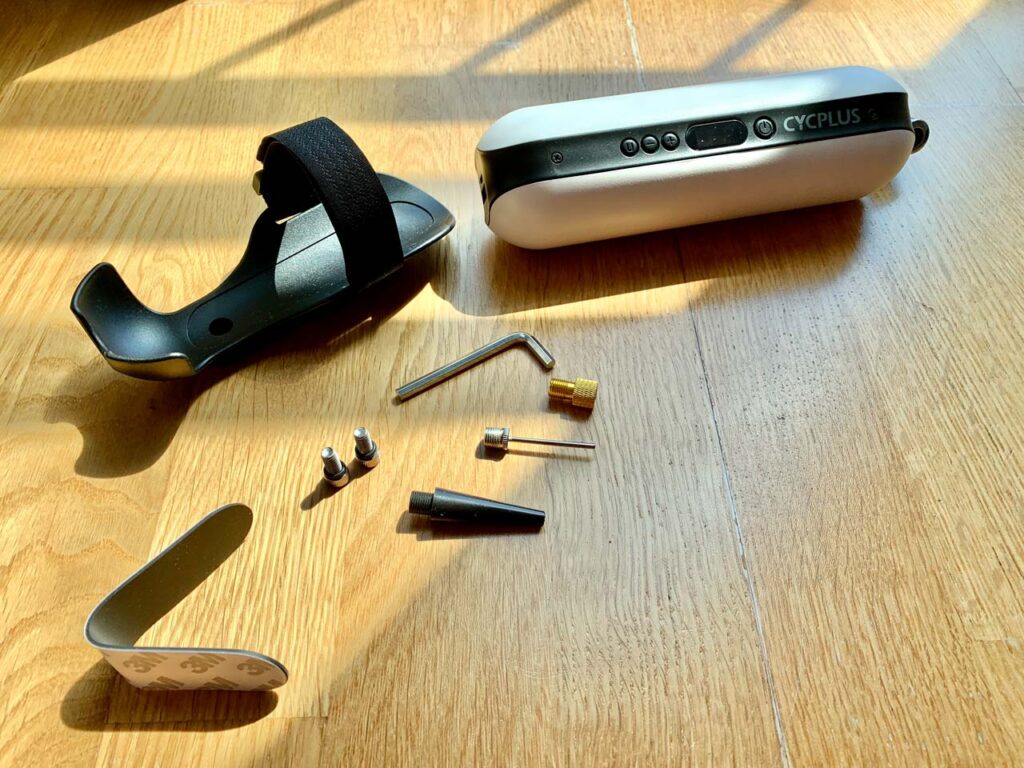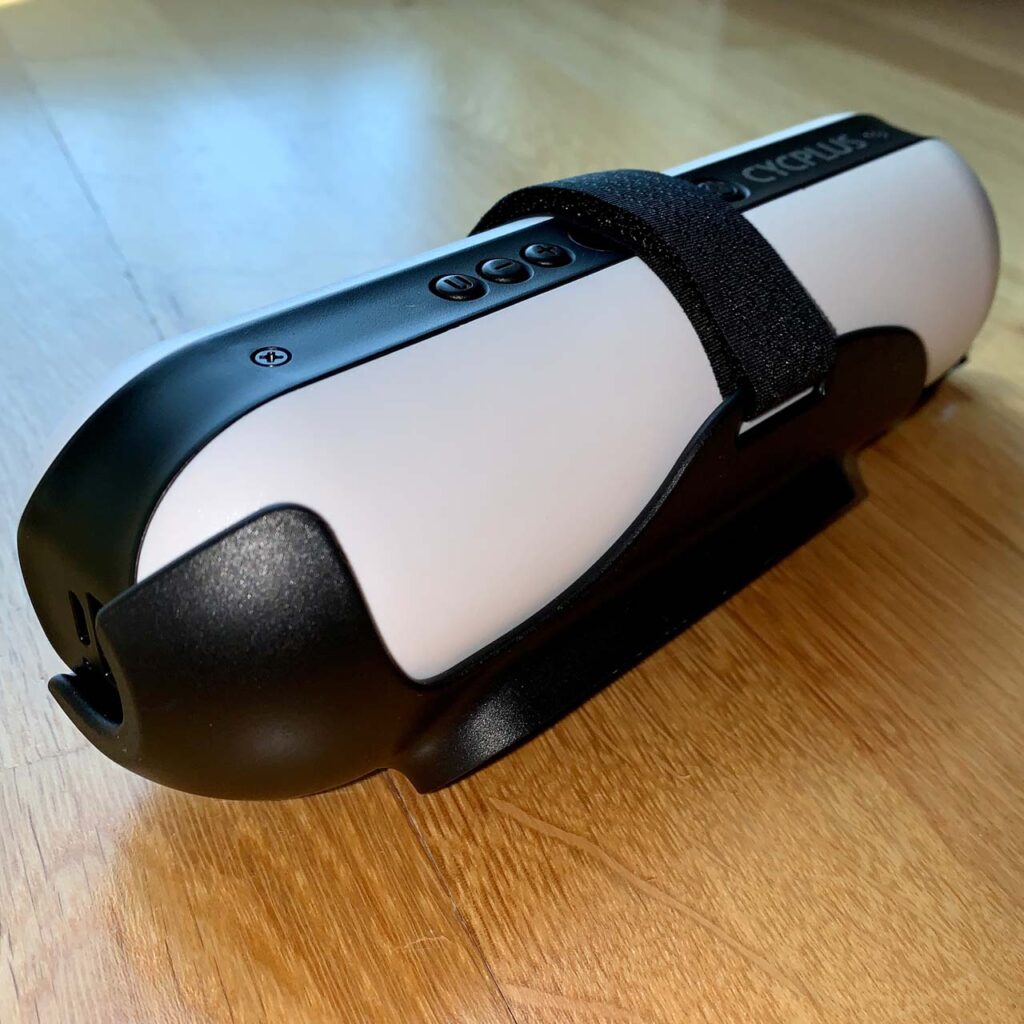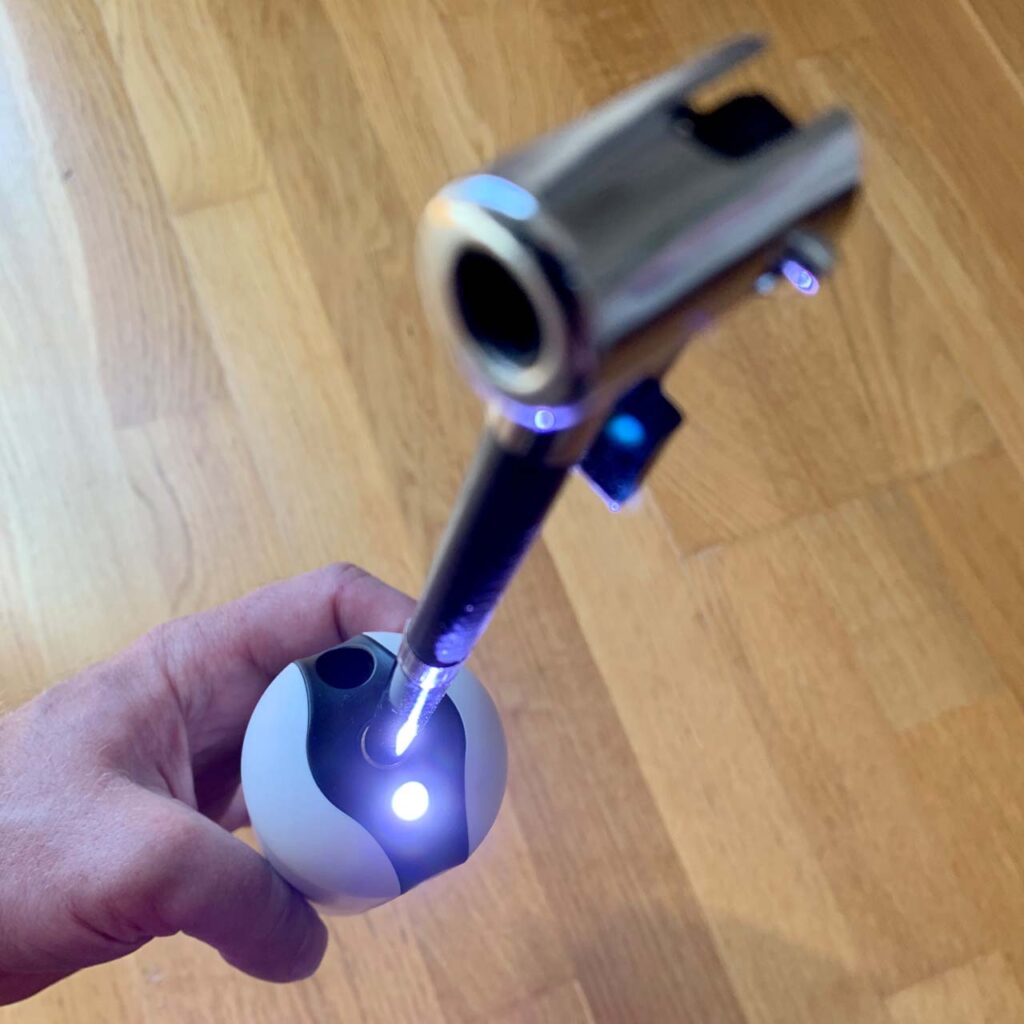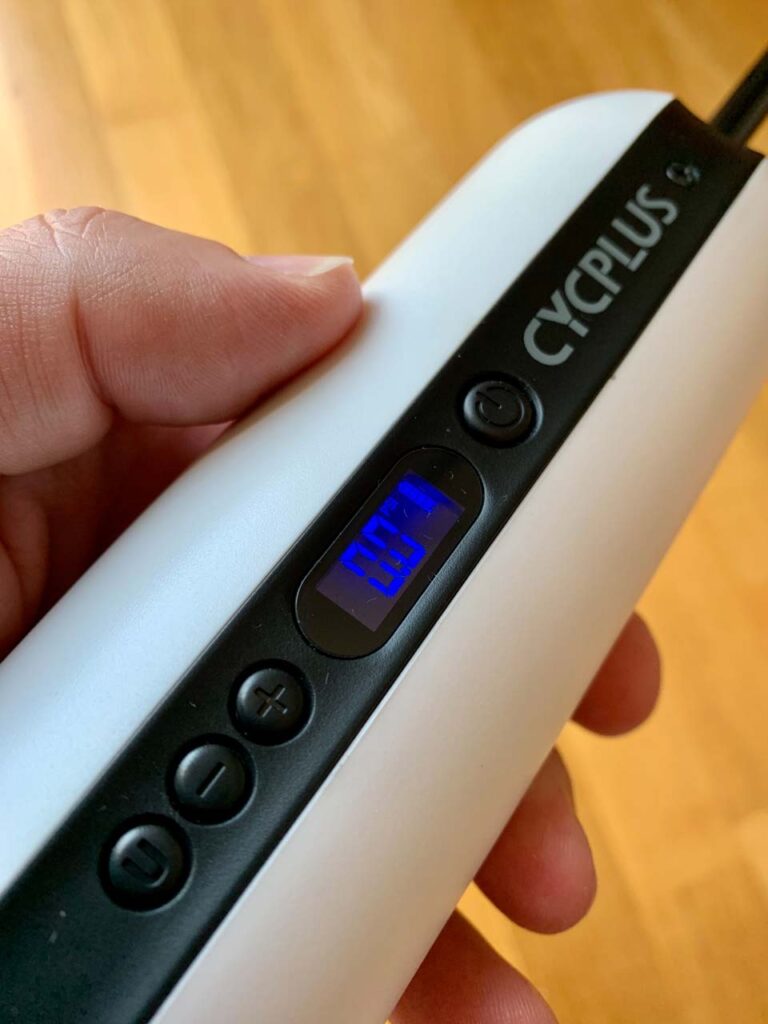 Conclusion
I've seen smaller pumps with fewer features, so if you really need something compact for pumping only, you could look elsewhere, but smaller usually means fewer features and less power. If you ever need to pack a flashlight, a pump, and a power bank, choosing the Cycplus A2 Inflator might actually save you some space despite its size. You also need to keep accessories in mind, as the Cycplus A2 comes with everything you might need, where other brands and models might not.
My only point of attention to any buyer, is that the valve will slide out of 'storage tube' on the unit very easily. I would recommend putting the whole thing in the included drawstring bag to avoid losing it. Apart from that one thing, this is a very handy device, and I'll be keeping it in my biking pack for every ride from now on. I can't wait to use this for everything that needs to be inflated, and by the end of summer 2021 I reckon I'll be very happy I own this gadget, as I'll have used it for several tire changes and my kid's beach toys at least 10 times 😉
Where to buy:
Black version:
https://staging.ebikeparts.shop/product/automatic-air-inflator-basic-bike-pump-black/
White version:
https://staging.ebikeparts.shop/product/automatic-air-inflator-bike-pump-white/
Vooni branded version (more expensive, comes with better storage bag, but no bike mount)
https://www.coolstuff.dk/Vooni-Luftpumpe-med-Trykmaler