The rear shock suspension has a demanding job. The terrain and the vehicle's weight are constant opposing forces that need to be in balance. Since the shock is located right between the rider and the rear hub where most of the weight is, it's the most important suspension on the bike. The stock model accounts for many bad first impressions, but luckily it's a wrong that can be made right in under 10 minutes.
The original rear shock: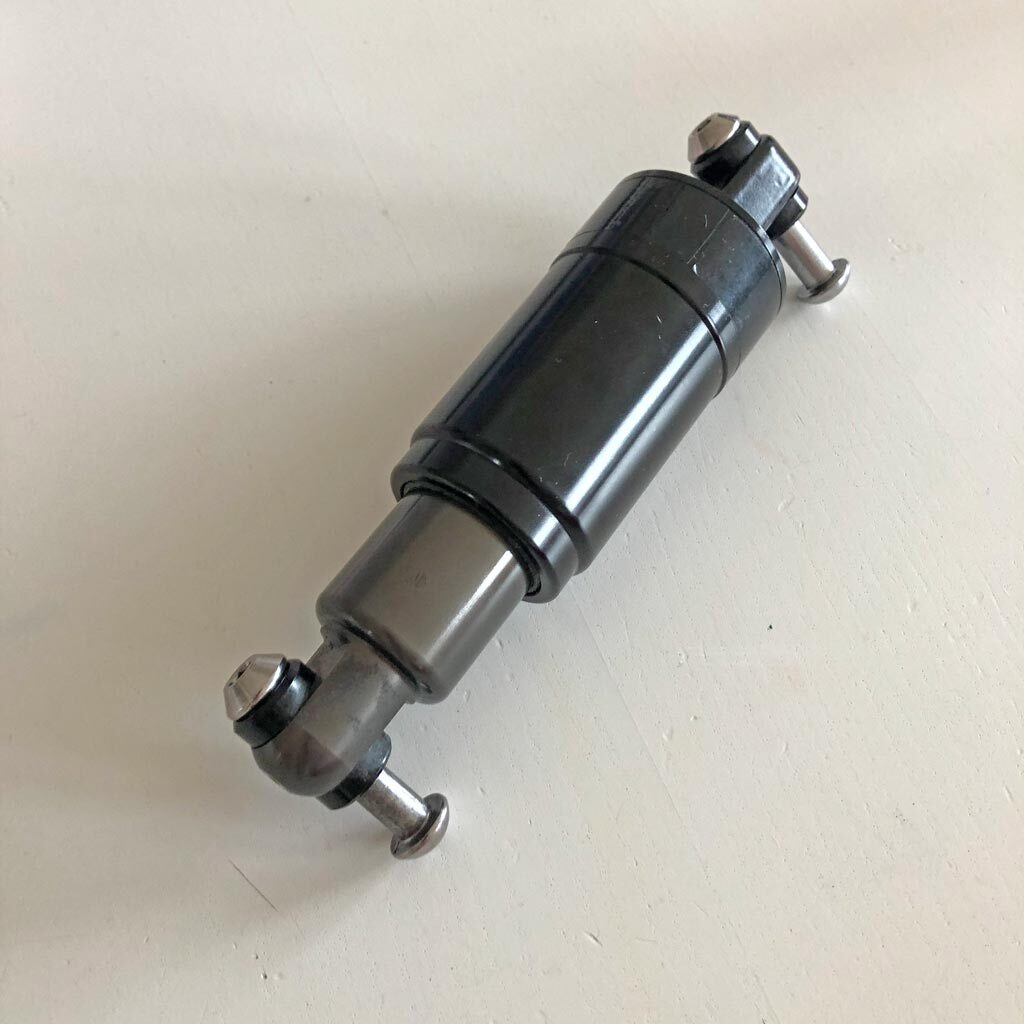 Just like the stock front fork suspension, the original MATE X rear shock is a spring-coil suspension. The first wave of bikes came with a more "chubby" looking one than the later bikes, but functionally there is little difference. Unlike the front suspension, there is no compression setting or lockout. Being only 150mm hole-to-hole, the travel distance of the cylinder is very short, and the spring is too soft for heavier of riders. This results in the suspension "bottoming out" very easily, and it can be a literal pain in the butt.
This annoyed me from day one. After 4 weeks the suspension started making annoying creaking noises. That last part was easily fixed with 2 squirts of WD40 Bike Lubricant in each mounting point (don't use regular WD40, and don't lube the shock cylinder with it!) but I had already had enough. I decided to do my very first, and most important upgrade. I'm publishing this post over a year after I upgraded, and I'm still happy with my decision.
Time for some fresh air:
Most MATE X riders are using some variation of the DNM Air Rear Shock. Available in several lengths and versions, the DNM has an air valve, rebound adjustment, and compression adjustment. It looks like the lovechild of a lightsaber and a Nascar racer. What were the designers thinking? Black, copper, red, yellow, blue, 5 different fonts and logos plastered all over it, bits sticking out in all directions… Still, function before fashion. I hear it's pretty good. The specs looked good, but I couldn't find one in stock, and my wallet was already hurting from buying the MATE X a month earlier.
There's also the RockShox Monarch, which must be studded with diamonds or something at that price. I bet it's amazing, and I bet I'm not a good enough rider to justify having one.
The Suntour DuAir LO-R Rear Shock is also a pricy option, and 5cm longer than the stock shock, meaning you either go for low pressure and lots of travel, or raise the bike up higher.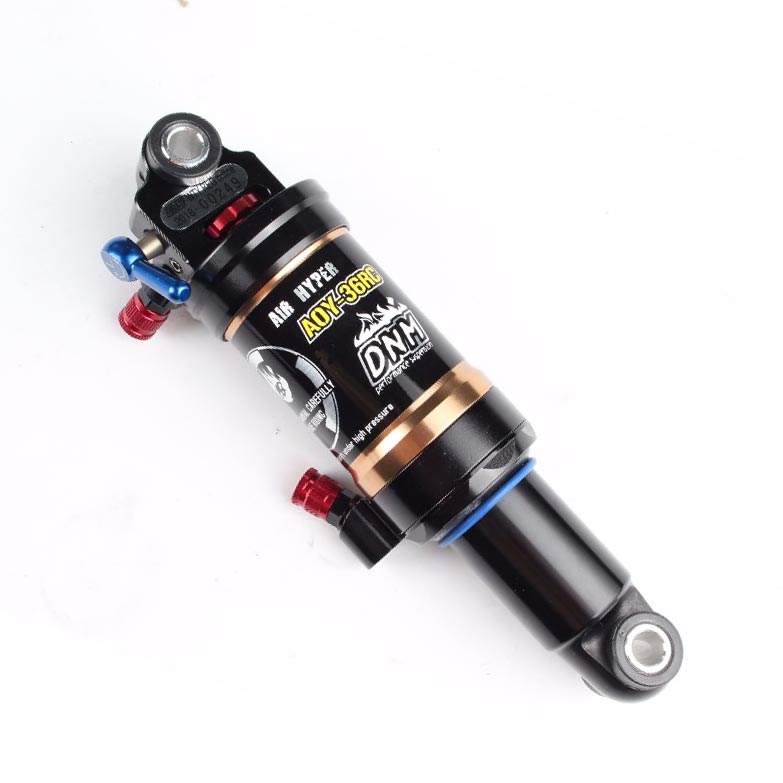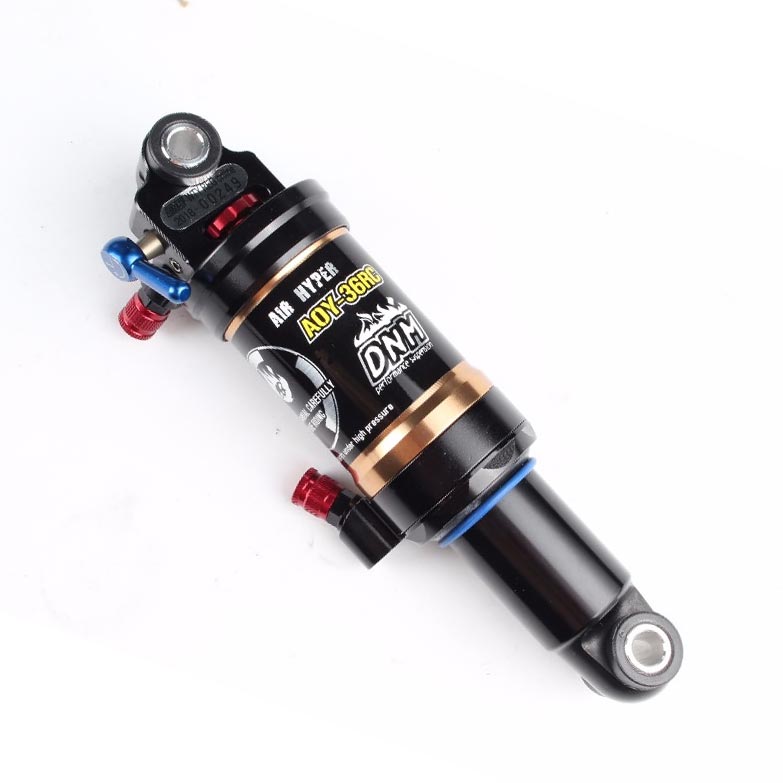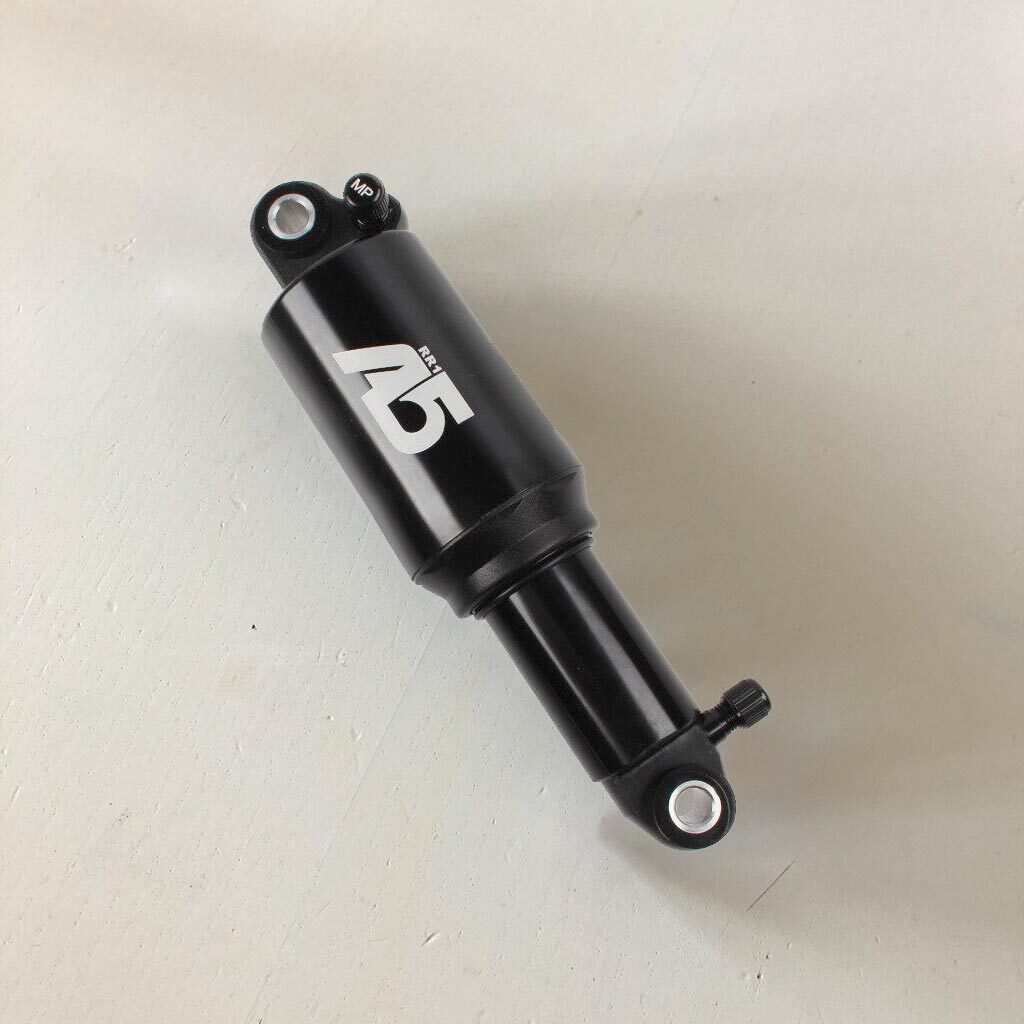 Instead, I found the EXA FORM A5 rear shock, available in 4 sizes (165mm being very close to the MATE's original shock), and pretty cheap. I wanted the DNM, but decided the A5 would be an improvement no matter what. I was pretty surprised when I opened the box – I didn't know it was in there. For a second I thought it was made of plastic! It weighs only 160 grams! The EXA FORM A5 has 2 air valves, one for each chamber. This essentially acts as a compression and rebound adjustment, just less practical to set up than the DNM, and with no lockout switch I'll have to live with it always being active. Installing it took maybe 10 minutes. No exotic adapters, spacers, reducers or whatever needed. All the mounting hardware was in the box, and it fits perfectly. The "eye holes" at either end are 8mm, which fits the MATE frame perfectly without the need for adapters/spacers. This is obviously something you need to bear in mind if you buy another shock.
The instructions had no table of recommended pressure based on rider weight, it just stated not to have higher pressure in the lower chamber than the top one. So I tried my way along, riding with a shock pump in my backpack for the first week until found a setting I liked. I am very happy with it, I've never felt it bottom out, and to this day it is functioning perfectly.
Final notes:
There's a bit of discussion on what length to get. The MATE X comes with a 150 rear shock, and getting a much longer one will change the bike's geometry (which basically means it looks a bit different and raises the middle). The question is, does it matter?Take a look at these comparison images from Yoh Wasada: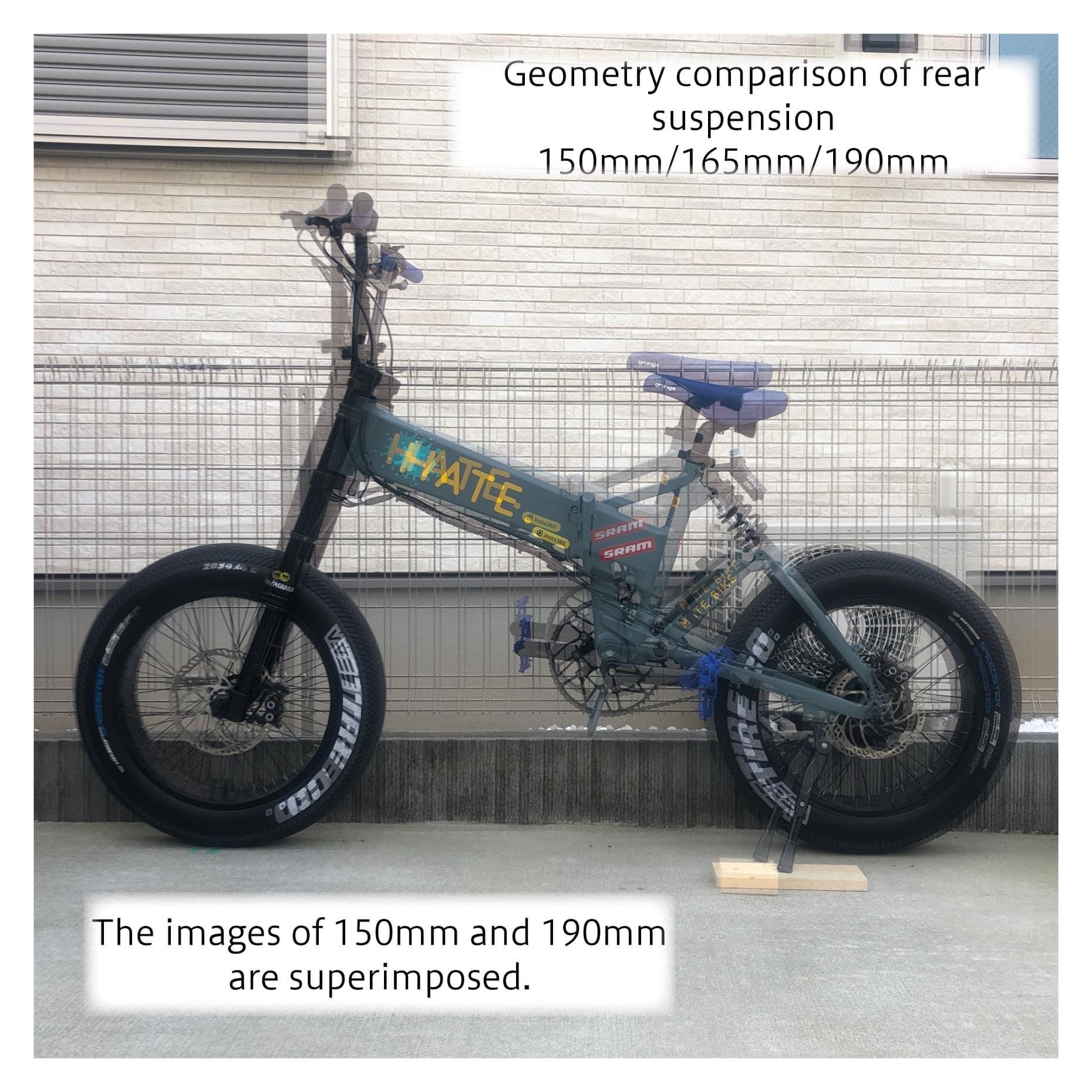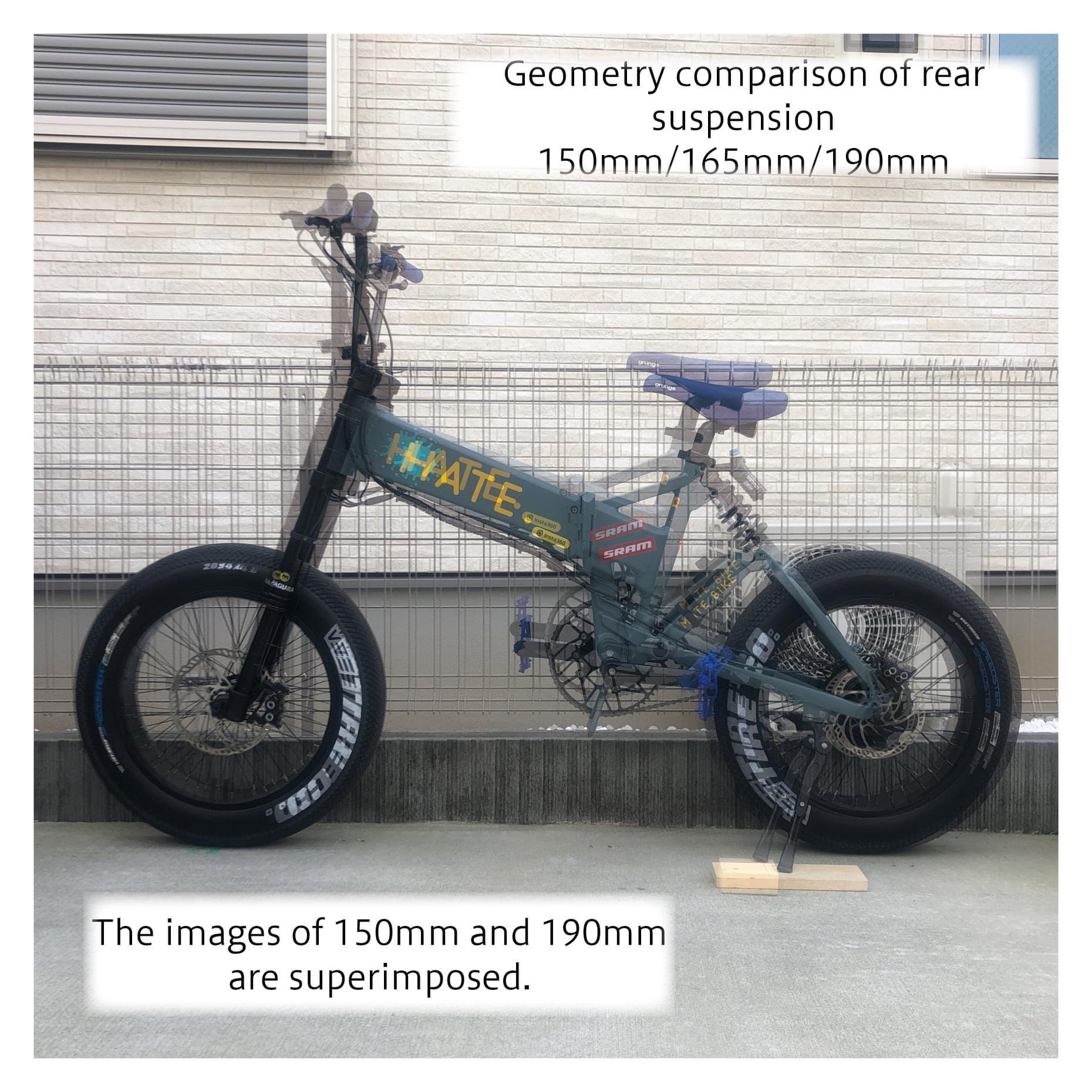 The advantage of a longer shock is more travel distance. That means less chance of bottoming out, and you can have lower air pressure for even better dampening and a nice soft ride.
The disadvantage of a longer shock is the center of the bike will be raised up higher when you're not in the saddle. If it's already hard to reach the ground when you're on the saddle (I have to use my toes and I'm 178cm tall), at what point do you have to get off the saddle just to reach the ground, or when do you have trouble even getting on? A long travel that's set too soft will also take some of the power out of pedalling, and it absorbs some of the energy – which can also be issue with front forks I might add.
Just like the front fork, remember to set the sag on the rear shock as a starting point for finding the right pressure. Setting the sag means finding the point where both of the bike's suspensions sink between 1/4 and 1/3 of the way into their travel length as soon as you sit on the saddle. You can find some great tips on doing this on YouTube, just remember that the MATE X is a different bike and you may have different needs and preferences, so don't follow that advice to the letter.
Where to buy (EU):
Exa Form a5 rear shock is available at eBikeParts:
https://staging.ebikeparts.shop/product/black-rear-suspension-165-mm/
Exa Form A5 Rear shock is available at Amazon Germany:
https://www.amazon.de/-/en/45-165-Air-Adjustable-Shock-Absorber/dp/B01A5QU6L6/ref=sr_1_1?dchild=1&keywords=exa+form%2C+165+mm&qid=1617697190&sr=8-1
If you have trouble finding the Exa Form, try searching for "Lixada" instead of "Exa Form" as it's the same model under a different name.
If you're in the EU, you can get the DNM and Monarch shocks at DATE X:
https://bit.ly/DATE-BFx
Maybe you're in the mood for something made by Exa Form that looks like a DNM? This one's pretty unique:
https://www.amazon.de/-/en/Absorber-Suspension-Hydraulic-Adjustable-Bicycle/dp/B019J3KLHK/ref=sr_1_2?dchild=1&keywords=exa+form%2C+165+mm&qid=1617697190&sr=8-2